Pregnancy changes many things. One thing you may find is that your old circle of friends no longer understand what you are going through. Just when you need more support. So how can you find or create support when pregnant or a new parent?
7 ways to find your circle of support when pregnant and postpartum
1. Birth education classes
Challenge yourself to strike up a conversation with at least one interesting woman during one of your birth education classes.
2. Consult existing friends who already have kids
Parents love to give advice to those following their footsteps!
3. Online support
Find a Facebook group of local women going through the same thing. Google+ can be a great place to find communities with common interests. And Babycenter and What to Expect have "birth month clubs" that can be found online and even in mobile phone apps.
4. Form or join a playgroup and "mama tribe"
Read this article on how a "mama tribe" can help during pregnancy and beyond.
5. Come to my free support group, "Maiden to Mother" on Fridays
If you are in San Diego, please contact me at abby@abigailburdlcsw.com or call 619-289-7818 for the address to a free pregnancy and postpartum support group held every Friday at 12:45pm.
6. Take prenatal and mom and baby yoga
Not only will you be connecting with your inner calm and your baby, you may meet other women you can relate to.
7. Consult a therapist to help create a plan for social support
If all of the above aren't helping, or if you may be at risk for postpartum depression, a licensed therapist can help you to create an individualized plan for support.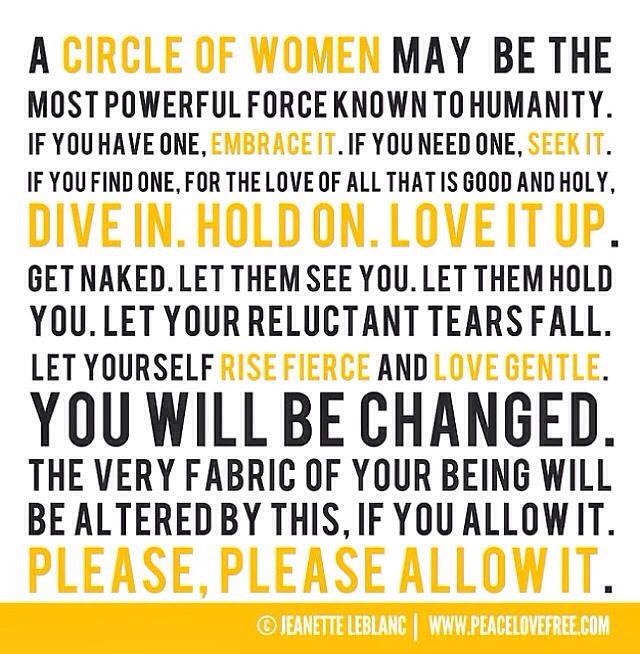 Image credit: Jeanette Leblanc found via Jesalyn Eatchel, LCSW